Your favourite fruit and vegetable processing company
Laalfi Farms Nig Ltd
We are a fruit and vegetable processing company that works to reduce post-harvest losses and improve nutrition. We process fruits and vegetables into ready to use snack and food items in the form of dried fruit pieces, fruit and vegetable powders.
Our intent is on reducing post harvest losses and prolonging the shelf lives of our products without the use of food additives and preservatives. We work with small holder farmers and ensure that the products are natural and are not ripened forcefully.
Our products are NAFDAC Certified with more undergoing certification. Our facility is also FDA Certified. We guarantee quality products and our customers can testify to the freshness of our products.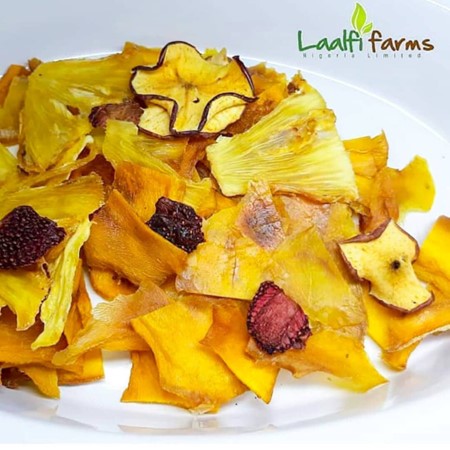 Dried fruits for best nutrition value at affordable prices for stronger body

Best store for deals with quality fruits powders for best nutrition

The best destination for vegetable powder packaged for you
We produce 100% Natural products
Subscribe to our newsletter
Sign up to receive product updates, special offers and amazing discounts